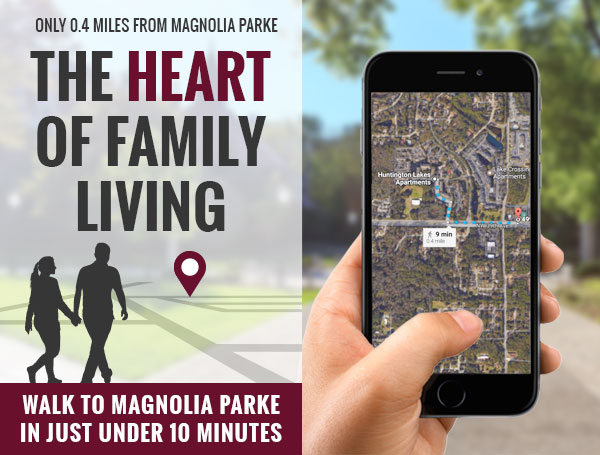 Shopping, Dining & Nearby Attractions
Donut Connection
David's Real Pit BBQ
Northwest Grille
Sal's Place
Tires Plus
Barre Forte
The Sweetest Things
Magnolia Parke
Devil's Millhopper Geological State Park
Easy Access to I-75
Starbucks
Do Art Pottery & Art Studio
UF Health Pediatrics at Magnolia Parke
One Love Cafe
Hunters Crossing Shopping Plaza
Meadowbrook Elementary
Fort Clarke Middle
Buchholz High School
Gainesville Apartments For Young Professionals & Families
Whether you are a looking for a stress-free haven where you can get the rejuvenation you need or the right spot to raise your children, visit our townhomes in Gainesville. We combine lavish amenities and carefully designed apartments to create the home of your dreams.
Tight-Knit Community Atmosphere in Gainesville
Everyone wants to live in a welcoming community. At Huntington Lakes, our amenities are designed with this in mind. Young families and professionals alike enjoy the friendly competition and social connections associated with sports. That is why our property has two tennis courts, a basketball court, two swimming pools and a racquetball court where you can challenge a friend or another resident.
Our community also provides a fire pit and two outdoor kitchens to make your day complete. When you are hosting friends for a fun-filled day of sports and activities, have a barbecue together or make s'mores and trade stories at the fire pit. This sense of community is only enhanced with the presence of a gated entrance so you can relax knowing your children are protected as they make friends on the playground.
Area School Zones
Huntington Lakes is located near these great school zones:
Meadowbrook Elementary
Fort Clarke Middle
Buchholz High School
Customize Your Professional Apartment
Your professional apartments will only feel like home if you are able to make choices concerning your space. At Huntington Lakes, your unit does not have to be the same as all of the other apartments. When you choose to live in one of our units, you can pick between an apartment or a townhouse depending on which suits your lifestyle preference. If relaxing outside after a long work day is important to you, select one of our units with a waterview, which you can enjoy with the mosquito-free screened porch. You can also request a garage if you desire one. Once you make all of these big decisions, personalize your unit with your own decorations and small touches.
High-Quality Apartments in Northwest Gainesville
Whether you are a young professional just starting out on your career path or are beginning your new family, Huntington rents luxury apartments Gainesville, FL, residents prefer for their comfort and convenience. Contact us today to schedule a tour of our northwest Gainesville townhouses and apartments and discover what it's like to live in the lap of luxury and convenience with our waterfront apartments.